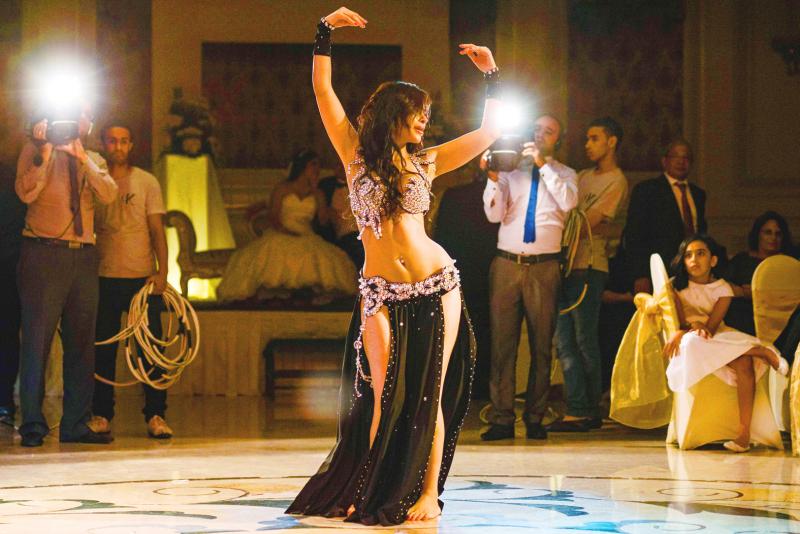 Foreigners flock to Egypt for its belly dancing scene
CONFLICT VISIONS:


Although many see Cairo as the birthplace of belly dancing, authorities in the country have started targeting performers in recent years.

At a Cairo wedding venue, Russian belly dancer Anastasia Biserova took to the dancefloor in a shimmering high-slit skirt and elaborate sequined bra top.

She swirled her diaphanous pink shawl and slipped into the room as a band played music, as the crowd erupted into enthusiastic applause – all captured in a video posted online.

"There is no country in the world that enjoys belly dancing like Egypt," she said.

"There is a growing trend here to invite foreign belly dancers to weddings, nightclubs and other events," she added.

Biserova moved to Cairo over four years ago and made a name for herself.

Belly dancers from Eastern Europe, Russia, Latin America and elsewhere have dominated the scene in recent years in Egypt, long considered the birthplace of belly dancing.

However, the North African country has seen its community of local dancers shrink, largely due to the growing notoriety of the profession as the country has become more conservative over the past half century – and to a growing repression of freedoms.

The profession has taken another hit as the COVID-19 outbreak in Egypt has forced large weddings to be temporarily suspended and nightclubs closed – though many dancers have continued to captivate audiences with videos online .

Belly dancer Maria Lurdiana Alves Tejas said it took some time for her to come to terms with the Egyptians' conflicting view of her profession.

The Brazilian, known as Lurdiana, said she performed in front of enthusiastic crowds at weddings and nightclubs, and even taught in gym classes.

"But there are some who don't see me as a professional – or [who think] that I didn't have a good education and that I'm doing this just to show off my body for money, "she said. "It was very difficult and sad because I spent years learning."

The Egyptian belly dancing scene flourished in the last century, when icons such as Samia Gamal and Tahya Carioca rose to fame on the big screen.

Researchers say that Egyptian society widely viewed dancing as an entertainment, to be watched, but never considered a profession.

"This view was reinforced by popular culture and movies that portrayed belly dancers as flirtatious, prostitutes or house breakers," said Shaza Yehia, author of a book published last year on the history of dance.

The Arabic terms for dancers – raqasat and awalem – now often have offensive and racy connotations.

Authorities also targeted dancers, pop divas and social media influencers who posted videos online.

The charges often leveled against them included violating the rules relating to "family values" or "public decency".

Foreigners have not been spared from the repression. In 2018, Russian belly dancer Ekaterina Andreeva – known as Johara – was briefly arrested for donning a costume deemed too revealing, after a video of her performance circulated widely.

Yehia and other scholars have said that belly dancing in Egypt flourished particularly during the 19th century.

"The artists of the time were called awalem, or the connoisseurs, in reference to their vast knowledge in the arts of song and dance," Yehia said.

Its modern manifestation was partly shaped by Westerners during colonial times, she added.

Some even claim that the term "belly dance", or belly dance, was originally coined by the French.

"Foreign writers and painters have described their own fantasies about belly dancers," Yehia said. "These views sparked the imagination in the West, which then sought to turn them into reality."

International dance moves have been incorporated into oriental dance, and costumes have been altered to appeal to popular tastes.

Today, conservatives and traditionalists regard the flowery skirts and sequined bras of oriental dancers as too revealing, and often accuse them of being "vulgar" and "overtly sexual."

Dancers performing to classical Arabic music have also become a rarity, generally preferring popular electro street music, known as mahraganat – a genre with fast-paced rhythms and improvised vocals that purists consider crossing boundaries. moral.

Despite the contradictions, foreign oriental dancers in Egypt say moving to the country was the right choice.

"Foreigners should come here to fully understand, play and practice," Ukrainian belly dancer Alla Kushnir said.

"Egypt is simply the land of belly dancing," she added.
Comments will be moderated. Keep comments relevant to the article. Comments containing abusive and obscene language, personal attacks of any kind or promotion will be removed and the user banned. The final decision will be at the discretion of the Taipei Times.