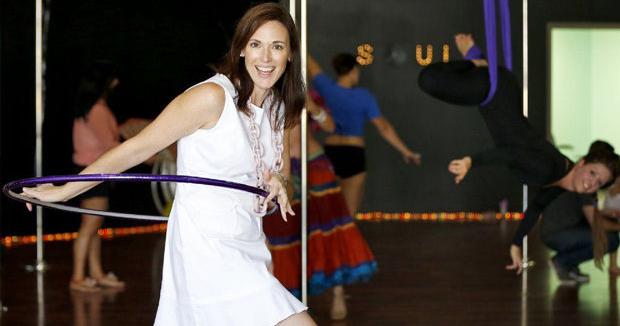 Biz Buzz: Soul Aerial Begins Offering a Variety of Dance Classes | Economic news
BY RANDY HALLMAN Richmond Times-Dispatch

It had a soft opening for several weeks, but today is when Flynn Cross is upgrading his business.
Soul Aerial and Performing Arts Center begins its full range of classes – 70 per week, so far – at premises at 1632 Ownby Lane in Richmond.
It is a dance/fitness/performance operation, 6,000 square feet of which approximately 2,500 is occupied by performance dance space.
There are poles for pole dancing and aerial silk hammocks for Cirque du Soleil style training. You can learn belly dancing, dancing with hoops, dancing with swords. You can get circus training if you want to run away and join the Ringling Bros. and Barnum & Bailey.
You can learn from someone who toured with a Broadway show.
The age range for the lessons? It starts at 8 months (Circus Babies is the name of the class) and goes as far as you can take it. If you can still get there, Cross says, they'll find a class for you.
One of her students, an 88-year-old woman, organized a group of dancers who go to nursing homes, as the woman put it, "to cheer up the old people."
Some classes are held during the day on weekdays, aimed at homeschoolers, Cross said.
For more information, visit soulaerial.com.
About pole dancing – isn't it just stripper training? Cross was taken aback by the question and thought about it for a minute.
"If that's what someone wants to do with training, that's fine with me," she said. "We see it as an acrobatic art, a discipline. …Some people have set up for pole dancing at home. And, yes, there is a sensual flow to some of them.
Cross comes from a family of dancers – her aunt runs the Ann Catherine Cross School of Dance studios, two in the Richmond area and one in Tappahannock.
A graduate of George Mason University, Cross grew up dancing and danced professionally in the United States and abroad. She retired from that career to be a stay-at-home mom to her son Davis and daughter Bennett, now 11 and 4, respectively.
"I wanted to get back into dancing and pursue my dream," she said. "It was the way to do it.