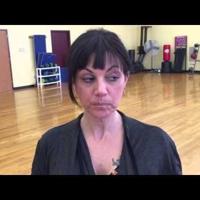 Belly dancing for a cause | Lifestyles
Rhonda Triller

GLENS FALLS | The group of women stood around the room and each said why they were there.
"My friend died of ovarian cancer."
"My cousin has pancreatic cancer."
"My mother died of lymphoma when I was four months pregnant."
"My father is a prostate cancer survivor."
"My uncle has lung cancer."
They each have a story, and therefore, a reason to dance.
"There's no one who isn't invested," said Lisa Bohannon, the dance troupe's founder and director.
Angela Phillips stood quietly in the center of the group.
"You need to hear his story."
Phillips got a little choked up and the women reached out to her. "We will mourn with you," they said.
Phillips, a 33-year-old funeral director, quietly shared her story as her friends cheered her on.
Find a purpose
Bohannon, who lives in Queensbury, started belly dancing around 10 years ago as a fun way to exercise. She took a class and, when it was over, didn't want to stop dancing, so she and a friend started their own class.
At first, they met in someone's living room, but as word spread, the group quickly moved out of space.
"The belly dancing community has grown tremendously in Glens Falls over the past decade," she said.
Now Bohannon hosts a weekly belly dancing class at the Glens Falls YMCA. Twenty to twenty-five women show up most weeks.
Her dance troupe, the SunDancers, performs at local events and offers classes and workshops.
One such workshop was at the Charles R. Wood Cancer Center.
Vickie Yattaw, resource nurse and navigator at the cancer center, gives a weekly fitness class to cancer survivors.
"Four years ago I said to my band, 'What kind of different things would you like to do?' and, jokingly, one of them said, 'Belly dance.' I said, 'Be careful what you wish for,' Yattaw said. 'Then I asked Lisa to come Do a course."
Yattaw loved it and joined the SunDancers, who donated all proceeds from the events to the American Cancer Society.
When one of Yattaw's patients died in 2012, his widow donated part of her life insurance policy to start Randy's patient relief fund. The program helps cancer patients meet the out-of-pocket costs associated with their disease.
When Yattaw told Bohannon about the new program, Bohannon immediately said that future SunDancers donations would go to the fund.
"She has a huge heart," Yattaw said of the troupe founder.
'Empower'
Phillips was 20 and couldn't beat what she thought was a bad case of bronchitis. One night she woke up and couldn't breathe. Her fiancé took her to the emergency room.
After a battery of tests, he was diagnosed with Hodgkin's lymphoma. She underwent 10 cycles of chemotherapy and seven weeks of radiation therapy.
"She kicked cancer's ass," said fellow SunDancer Siobhan O'Leary.
Phillips experienced debilitating weakness and, during his chemo-free weeks, injections to increase his white blood cell count.
"I would go for chemo and then I would be in bed for three days," she said.
She recovered, married her fiancé, and was told she would probably never have children. Since her husband is 35 years older than her, they decided not to undergo fertility treatment.
Then, just over two years ago, she thought she was suffering from an ectopic pregnancy, so she went to the emergency room.
"The doctor came in and said, 'You're pregnant and there are two of them,'" Phillips said.
"It was joyful because I always wanted to be a mom and never thought it would happen," she said.
Six months ago, during a stop to file a death certificate for work, she struck up a conversation with SunDancers member Elizabeth O'Leary.
O'Leary asked how Phillips was so fit after having twins, then invited her to join SunDancers.
"She convinced me and I was immediately hooked," Phillips said. "It's very stimulating."
The big stage
On Saturday, the SunDancers perform Coalescence, an evening of belly dancing, at the Charles R. Wood Theater in downtown Glens Falls to benefit Randy's Patient Relief Fund.
The troupe danced at the State Fair, and Bohannon spoke to other groups there who were fundraising.
"I thought, 'We have a really nice theater here in little old Glens Falls, maybe we can do a fundraiser,'" Bohannon said.
So she invited other dance groups from across the state and planned over two hours of entertainment.
The SunDancers rehearsed Tuesday night in the Glens Falls Hospital auditorium.
Each woman danced with a scarf, the symbolic color of the type of cancer affecting her loved ones. In a sea of ​​color, more than a dozen women of all shapes, sizes, ages and abilities danced as one, coin belts tinkling.
Rhonda Triller is Managing Editor at The Post Star. She can be contacted by email at [email protected]