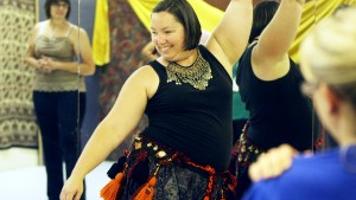 Belly Dance Instructors Say Art Form Has Many Benefits Local
Correspondent Jan Hill Journal

For Bianca Boll, belly dancing is more than sparkling costumes, jerky movements and exotic music.
Twenty-one years ago in Albuquerque, New Mexico, Boll first discovered belly dancing and immediately became addicted to it.
"I just got up and danced, no workout at all," Boll said. "We (seasoned belly dancers) call the people who dance for sheer fun 'jingle bunnies', and that is what I was. But with 30 hand drummers making that huge sound and amazing belly dancers all around it's hard not to be affected by it. "
That's the kind of enthusiasm Boll brought to a class she recently taught at the Dahl Arts Center. Boll, who taught belly dancing for 17 years, described herself as a "fearless" person who studied ballet, gymnastics and theater when she was younger, but none seemed quite right.
"Being short and muscular, I was not the right build for ballet," she said. "But when I discovered belly dancing, I found the right one for me."
Soon Boll found herself immersed in it.
"I was young, single, with no kids and no mortgage," she said. "All my money went to belly dancing lessons."
She learned from many accomplished dancers, and the next thing she knew, Boll was teaching belly dancing classes in her Albuquerque living room. After returning to Rapid City in 1997, she immediately announced to teach belly dancing.