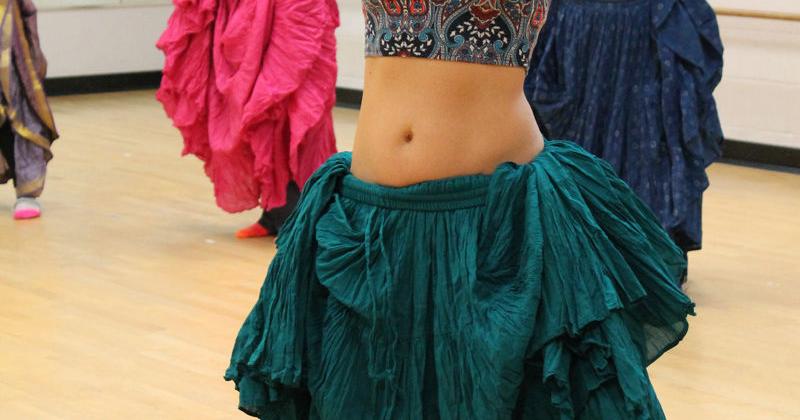 Belly Dance Classes Shake Up Exercise Routine | Life
LIFESTYLE EDITOR
Kali bradford
Elizabeth Calderón hopes to shake up the average daily workout.
Calderón, who recently moved to Tullahoma from Mexico, joined with Tullahoma Parks and Recreation to offer ATS (American Tribal Style) belly dancing classes from 6 p.m. to 7:15 p.m. every Thursday at the DW Wilson Community Center.
"All women are welcome from the age of 12," Calderón said.
"No prior knowledge or experience of oriental dance is required, just a love to move and have fun. I have been living here for a year and a half. It's something new here in town and I would like everyone to know about it and come and see what it is.
ATS belly dance
According to the site oriental dance.com, ATS oriental dance was born in San Francisco with Jamila Salimpour and her Bal-Anat troupe.
However, the style was defined and refined by Carolena Nericcio, creating what is now known as American Tribal Style.
Nericcio's unique group improvisation technique based on a series of predefined clues was an instant hit with hip underground artists and performers as it was a style that accommodated all ages and shapes, as well as culture. modern urban.
Tribal dancers became well known for their multiple tattoos and piercings, as well as their unique and earthy costumes which originally consisted of large gypsy-style skirts, large tasseled sashes, seashells, ornate jewelry. influenced by the cultures of the Middle East, Africa and the East Indies, and decorated turbans worn on the head.
As the dance evolved some elements became less common, like the head turban, but a lot of the basic costumes and the spirit of the look stuck.
"This style is really a modern take," Calderón said.
"It's a mix of African, Indian and Spanish dances. It's a little more elegant than basic oriental dance. The main or most important characteristic of this dance style is group improvisation and body vocabulary. And we're just dancing. We don't memorize the choreography, so it's more fun.
History of belly dancing
Considered to be the oldest dance known by some experts, the roots of belly dancing have been planted in the Middle East, the Mediterranean and North-East Africa; some sources claim that the pyramid builders of ancient Egypt were belly dancers.
Regardless of when it started, belly dancing was traditionally performed for other women, usually at formal events like fertility rites or pre-wedding ceremonies. African women performed in the markets, earning coins for their dowry.
These pieces were sewn into their costumes for safekeeping.
It was not until the beginning of the 20th century that belly dancing began to appear around the world at public events such as carnivals and fairs. This brought with it a mixed audience and mass appeal.
Today, different forms of dance, like ATS, are practiced all over the world.
Kiss the dance
Calderón has been belly dancing for over a decade and said she liked the ATS style of dancing best because of its style and involvement with the group.
"I really like dancing because it's not just about dancing with the audience, it's about dancing with each other. It is a tribe and a group. No one is more important. Everyone is important. It's a great dance because we're really having fun, "she said.
She also added that belly dancing has many benefits, including:
Good form of exercise. Exercise can burn calories and tone muscles while having fun.
"We work a lot on our waist, our arms, our legs and really the whole body. However, you don't realize it, because we're having so much fun. You may also notice that you will lose inches, "Calderón said.
Brain stimulation. Belly dancing is also mentally stimulating. Having to synchronize the movements of different muscle groups improves motor skills.
The aesthetics of art are linked to spatial geometry, and the practitioner must be aware of and learn to create shapes and lines with their body.
It allows mental alertness and functioning is stimulated during a period when increased oxygen is delivered to brain cells
Creative workout outfit. Calderón said that all dancers need comfortable yoga pants to get started. However, she advises dancers to wear long, flowing skirts as they progress through the dance.
Body confidence. Calderón said that dancing helps women gain more confidence in their bodies by embracing dance and working with a group.
"As women, most of us aren't comfortable with our bodies," she said.
"But I've seen women of all ages and sizes belly dance and be very happy and comfortable with their bodies. So every body is different and these dances remind us to accept the differences and just be who you are.
Better digestion. Belly dancing moves muscles in the abdominal and pelvic regions which massage the deeper internal organs. The result is better bowel and colon health.
Relief of menstrual cramps. Strengthening pelvic muscle groups and improving blood circulation help prevent cramps over time.
However, practicing oriental dance can also relieve cramps when they occur.
Relief of back pain. Back pain is now reported by over 80 percent of adults, and its number continues to rise as many become increasingly sedentary.
However, relief can be found by strengthening the deep core muscles that cushion and support the spine.
If you are going to
The cost to attend the course is $ 3 for non-members and free for center members. For more information, contact the center at 455-1222. Class size is limited to 15 students.
The center is located at 501 N. Collins St. in Tullahoma.